This is an ongoing series of paintings executed completly out of doors. Going to different locations, we strive to capture the elusive quality of light and bring back a lasting image.
Lock 38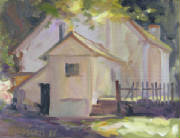 oil on board, 11 by 14
...Some old buildings along the C & O Canal outside Sharpsburg, Md.
Gone Fishing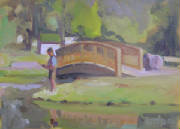 oil on board, 12 by 16
...Trying his luck at Poor House Farm Park
...At a members home, we zeroed in on the grounded vessel - nice backlighting!